´Life is music´ by Q-Music. Something off, you say? Congratulations! This a brand / pay-off mismatch comparable to 'Fanta gives you wings'. This edition of BLA is dedicated to the 'pay-off': one sentence that can change the future of your brand. A life sentence in bad branding prison, or a baseline for a better brand life? Here's an in-depth report by Brandhome…
Is your pay-off paying off?
In 2007, Brandhome started a qualitative research asking 330 consumers about 250 brands and their pay-off, better known as 'baselines'. The results were strong enough to propel the press release unto the pages of many a newspaper. Which brands stayed afloat and which brands were sinking into the murky depths, dragged down by their poor pay-off?
The latter category was populated by 10 pay-offs that were attributed to the wrong brand. (% = percentage of recognised but wrongly attributed baselines).
Chocolate with character-Toblerone           70% attributes pay-off to Cote d'Or
Vacations to your heart-Thomas cook       64% attributes pay-off to Jetair
Partner for your silhouette- Contrex           60% attributes pay-off to Kellogg's/Danone
Life is music- Studio Brussels                       54% attributes pay-off to Q-music
The number 1 in sports and news- HLN   46% attributes pay-off to Sporza
Fly cheaper- Ryan air                                     40% attributes pay-off to Virgin and Easyjet
Connecting people- Nokia                             40% attributes pay-off to Proximus
Wunderwear- Schiesser                                38% attributes pay-off to Sloggy and Always
This is where the fun starts- Fun                30% attributes pay-off to amusement park
Natural source of youth- Evian                   20% attributes pay-off to Spa and Vittel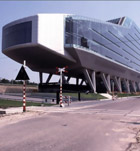 The research
This research was conducted to support the Brandhome method®. Brandhome believes that a powerful pay-off has to fit the brand identity, positioning and all-round brand experience. A lot of brands underestimate the value of consistency in communication, with the pay-off as its top priority. Brands change their 'pay-off' and their positioning too often. Without these values, a campaign can miss the mark and the consumer will forget the brand before the campaign is well and truly off the air.
Brandhome CEO Erik Saelens; "The pay-off is the first sentence a brand utters to their customer if it were a real life person. With this sentence, the brand must immediately get 'its foot in the door'."
The research has shown that some big advertisers are in more trouble than they might think. Some were recognized, not recognised, or worse: recognized but attributed to the wrong brand.
Some very popular brands did not pass the test. The 'Life is music' pay-off by Studio Brussels was attributed to their biggest rival Q-Music by 54 % of consumers. Toblerone scored the lowest of them all. 70 % of the people thought "Chocolate with character" belonged to Cote d'Or ('the power of real chocolate').
Where there are losers, there are winners. There are pay-offs that were correctly attributed by the majority. 'Gives you wings' and 'freedom of speech' and 'men know why' by Red Bull, Base and Jupiler were the clear winners. More than 80% of the consumers recognised these pay-offs and connected them to the right brands. Why? Red Bull has been using the same pay-off forever. Their sponsored events also 'give you wings': this means the pay-off is consistent and also consistently used. BASE owes its high score to 'freedom of speech' because 'freedom to communicate' fits the profile of a provider so well.
These 10 pay-offs were attributed to the correct brand. (% = percentage of recognised and correctly attributed baselines).
Maten. Makkers.             Maes                 92%
Men know why                Jupiler              91%
It's your energy                Electrabel         86 %
freedom of speech           BASE                 81,1%
gives you wings               Red Bull            81,1%
Because I'm worth it      L'Oréal              62%
Brings people closer      Proximus          56%
Just do it                           Nike                   56%
Nu ikke                              Lotto                  54%
And then there's the category of pay-offs that were not recognised, nor attributed. Carrefour lost out with their 'en everything becomes possible'. Not a big surprise, because really, every brand could possibly use that one. The banking industry received some extremely poor marks. Axa 'live full of confidence', ING 'a clear view will get you there' were seldom recognised. 0% of consumers recognised these three pay-offs. After 'priming'*, about 50% recognised the brand. The pay-off mostly remained in obscurity.
The last category is filled with 10 pay-offs that remained unrecognised and could not be attributed to a brand without priming*.
First %: without priming – Second %: with priming
and everything becomes possible          Carrefour              100% – 60%
Live full of confidence.                 Axa                      100% – 74%
A clear view will get you there   ING                       100% – 56%
Makes life easier             Delonghi                100% – 70%
Feel good in your skin   Olaz                        100% – 64%
Health & beauty              Kruidvat                 99% – 82%
A hat full of ideas           Meurisse                 99% – 68%
Feel better every day      Danone                   90% – 40%
Built to resist                   Eastpak                   94% – 52%
careermaker                    Job@                       86% – 40%
The results of this research were the foundation of the following tips to bolster your brand.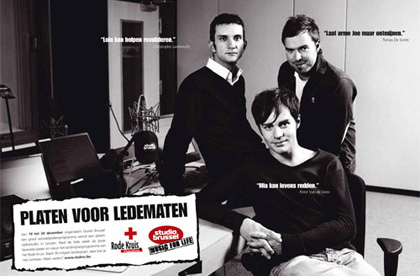 6 ways to seduce a consumer
When consumers don't recognise your brand and you 'prime'* them with product category, visual aids from a campaign or symbols, more than half the consumers do end up assigning the correct pay-off to your brand. (e.g. the piggy bank of Axa or the Meurisse hat)
When the product or service is part of the pay-off and the pay-off cannot be assigned, the market brand leader will take precedence. Do not be mislead by big names. (e.g. 'chocolate with character' is assigned to market leader Cote d'Or, while it rightfully belongs to Toblerone)
Consumers 'rate' a pay-off when they are able to assign it. If they feel the pay-off is not relevant to the brand experience or the brand's future; they will disapprove of the pay-off because they regard it as a false promise. First impressions matter (e.g. Carrefour: 'and everything becomes possible').
A pay-off that mentions the brand, usually works well. It's very hard to attribute the pay-off to the wrong brand and the negative feedback is rare, almost non-existent. Be straightforward, tell the people what you are about (e.g. 'Red Bull gives you wings')
A pay-off needs to be short, powerful and easy to pronounce in combination with the brand name. The visual combination of the brand image (logo) and the pay-off also matters. (e.g. 'freedom of speech' by BASE)
A standout jingle, song or cluster of notes played before or during the pay-off ('sonic brand') will help people remember the pay-off, but not the brand. (e.g. Delonghi 'makes life easier')
For a stronger brand
Adding a third dimension (symbolism) to your communication will fortify the link between brand and pay-off. The brand – pay-off – symbolism triangle will harness the power of association, helping the consumer remember brand and pay-off correctly.
Pay-offs that are used consistently for a longer period of time, will be better recognised, attributed and appreciated. They will become part of the brand identity, as it were. There's a clear difference between brands who consider their pay-off to be a campaign header and those who consider it to be part of their identity. Stay true to yourself, no matter what happens.
These tips will make consumers prick up their ears when your brand starts broadcasting. The relationship with your consumer is so fragile, there is no time for dull moments. A strong link between brand and consumer is created by… you! Keep it exciting, OK?
*Priming: giving indirect indications and stimuli to trigger specific memories or associations in the respondent's memory or subconscious, before or during qualitative research.